We provide a wide variety of taxi fleet insurance services. All designed to help you stay safe and keep your taxi business
running, from private hire insurance to taxi fleet insurance. We've included descriptions of our main services below to help you understand how we can help you. Taxi fleet insurance offers wide coverage for multiple vehicles, let us help you find a suitable plan for private hire insurance, public hire insurance & chauffeur insurance.
Private Hire Insurance
Intended for minicab and/or minibus drivers, private hire insurance is essential for private hire taxi drivers. Whether you operate in Southend or Stockport. Under the conditions of the license. You cannot be hailed in the street and must get customers to pre-book or hire you from designated taxi ranks.

Private Hire Insurance is absolutely essential for taxi drivers. As it is legally required to run your business and drive on the roads of the UK. With all the risks that taxi drivers face–both from other road users and passengers–you don't want to leave it to chance.
Public Hire Insurance
If you want to pick up customers that hail your taxi in the street as well as accept pre-bookings, then you need Public Hire Insurance. As with Private Hire Insurance, the type of cover can vary greatly depending on your insurance policy. The many optional extras we offer.
When it comes to unsolicited customers that hail you on the street. There is a great deal of unpredictability. So it would be wise to ensure that you are covered for accidental damages. For more details on the types of cover, we offer with Public Hire Insurance. Please request a quote or get in touch with a member of our team.
Taxi Fleet Insurance
Intended for businesses with three or more taxis, fleet insurance is an easy way to cover all your vehicles under one policy, saving you time and money. Rather than taking out individual insurance policies for each of your vehicles, and having to renew them one at a time, why not simplify things with Taxi Fleet Insurance from Protect My Taxi?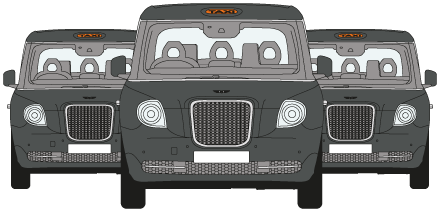 Whether you have a fleet of black cabs, minibuses or a wide range of vehicles, we can help you find a taxi fleet
insurance policy that meets all your needs and covers all your vehicles. Furthermore, the more vehicles you insure under our taxi fleet policies the more money you're likely saving over individual policies.
Chauffeur Insurance
As a chauffeur, we understand that your insurance needs. Your vehicle are very different from typical taxi drivers, with much of your work coming from contract hire. With this different business model come lower risks. As you should know where you're going and who you're driving to in advance.
Whether you're driving executives to a meeting or delivering a bride to her wedding. We know that job entails a lot of responsibility. It's also likely that you're driving an executive class vehicle. This is why we prioritize high-spec replacement vehicles and quick repairs in our chauffeur insurance policies. To make sure you can keep providing premium services to your clients.
Add-Ons
As part of our services, we will help create an insurance policy that's perfect for your specific needs. With all the extras you need and none of the features you don't. Some of the optional add ons we offer include, but are not necessarily limited to:
Taxi Breakdown Cover
We understand that any downtime where you're unable to drive your taxi is lost revenue. So we'll do our best to get you back on the road in the event of an accident. You'll be able to drive with peace of mind knowing that Protect My Taxi is there to help you recover after a breakdown.
Taxi Replacement Vehicle
If your taxi is off the road for an extended period of time after a breakdown or accident. We'll help you get back to your taxi business with a replacement vehicle. Depending on the level of cover, we'll provide a replacement vehicle of equal or greater worth. So you can carry on as normal while your taxi is out of commission.
Taxi Legal Expenses
If you've been involved in an accident that wasn't your fault. Protect My Taxi will contribute to your legal expenses so that you can resolve the legal case and get back to your business in good time. We know that a Road Traffic Accident claim is the last thing you want to file. So we'll help you get out of the solicitor's office and back on the roads with minimal expenses.
Public Liability Insurance
As a taxi driver, you are often responsible for other people's well-being, so you need Public Liability Insurance to protect yourself and your business from unforeseen circumstances after an accident. If you currently have – or are thinking of taking up – and work that would benefit from public liability cover, you are legally and morally responsible for taking out the insurance for your taxi.
As taxi insurance specialists, we can help you figure out what kinds of insurance you should be taking out for your vehicle, as well as some good precautionary practises. To learn more about what kind of public liability insurance is right for you, or to get a no-obligation quote, contact a member of our team today.